If you are looking to contact the Georg Simmel Center you will find e-mail, adress and office here. Furthermore, information for inquiries from undergraduate and PhD students, post-docs and bookings or guest researchers are noted below.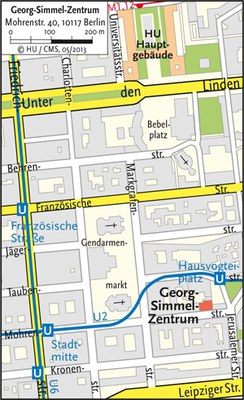 E-Mail
For general inquiries and questions please contact Henrik Schultze or Lily Dahl.
Prof. Dr. Talja Blokland, director
talja.blokland@sowi.hu-berlin.de
Prof. Dr. Ignacio Farías, vice-director
ignacio.farias@hu-berlin.de
Tel: +49 (30) 2093-70633
Dr. Henrik Schultze, coordinator
henrik.schultze@hu-berlin.de
Tel: +49-(0)30-2093-46683
Lily Dahl, office management
bueroleitung-gsz@hu-berlin.de
Tel: +49-(0)30-2093-46683
Address
Humboldt-Universität zu Berlin
Georg-Simmel-Zentrum für Metropolenforschung
Prof. Dr. Talja Blokland
Unter den Linden 6
10099 Berlin
Office
M*hrenstraße 41
10117 Berlin
Räume 418a-c
Office hours: Mondays 10 am-14 pm
Tel: +49-(0)30-2093-46683
Fax: +49-(0)30-2093-46682
Inquiries
Guest Researchers
As the Georg Simmel Center, we are pleased to welcome scholars at the Center for a certain period of time. In the following, you will find important information about these guest stays:
In principle, stays are possible for one semester. Depending on the resources of the Center, an extension is possible.
The application deadline for a stay for the coming winter or summer semester is June 15 and December 15 respectively.
A strong exposé (1 page max.) explaining the thematic field and the thematic proximity to the research fields of the GSZ must be submitted by this application deadline at the latest.
We expect our guests to participate regularly in the scientific events and other activities we offer, as well as to present their own research in one of these events.
In principle, each guest should have his or her own funding, as the GSZ does not award grants to finance the stay. However, individual funding is possible - depending on the availability of funds - if there is a strong thematic overlap with the Center's subject areas AND funding is not possible by other means.
The Georg Simmel Center can only offer office space subject to availability. Generally, at this time, office space is more likely to be unavailable due to our tight space constraints.